Kalamera 30 Inch Built in 6.0 Cu.ft 66 Bottle Wine Refrigerator Under Counter Dual Zone Temp Wine Cooler
Kalamera 30 Inch Built in 6.0 Cu.ft 66 Bottle Wine Refrigerator Under Counter Dual Zone Temp Wine Cooler
Brand:

Kalamera

Product Code:

KRC-66DZB

Availability:

In Stock
★Seamless Stainless Steel & Black: Designed with a Sophisticated Look for Display in Kitchen, Home Bar or Entertainment Area. ★Energy Efficient Compressor: State-of-the-Art Cooling Technology Makes Your Compressor Efficient, Quiet and Provides Even Cooling without Fluctuations. ★46 Bottle Capacity: Cooler has 5 Beech Wood Shelves to Hold Each Bottle Securely and has Spaces for 46 Wine Bottles. ★Quiet & Low Vibration: Runs Virtually Silent with No Vibration, So Wine Sediments are Not Disturbed and Flavor is Crisp and Delicious. ★Dual Zone Thermostat: Push Button Display Chills Wine from 40°F-50°F(Upper zone) , 50°F-66°F(Lower zone). So You Can Adjust Each Zone for the Perfect Chilling Temperature.
Download
Manual for KRC-40DZB,KRC-66DZB

Download

Are you looking for the best wine cooler to display your personal wine collection? Do you enjoy both red and white wines that need to be stored at different temperatures?
The Kalamera 66-bottle wine cooler is designed with dual zones so you can store your red and white wines separately, keeping each at optimal temperature! We've designed it with French doors that open in the center, made of stainless steel with two-layered transparent glass inserts. This cooler takes up a compact area as a freestanding unit or installed under a counter in your kitchen or bar area, and in that space holds up to 66 standard size bottles of your favorite wine! The bottles are properly stored on their sides on 14 slotted beech wood shelves, so air circulates evenly to chill each bottle. There's interior blue LED lighting to display your collection and provide an ambient glow. The control panel display is user-friendly, allowing you to easily turn on and off the interior lighting and control panel display light, to read the temperature in Fahrenheit degrees, and to set each zone to the proper temperature. There's even a built-in alarm that lets you know if the door was closed improperly or left open, so your wine stays protected and perfectly chilled.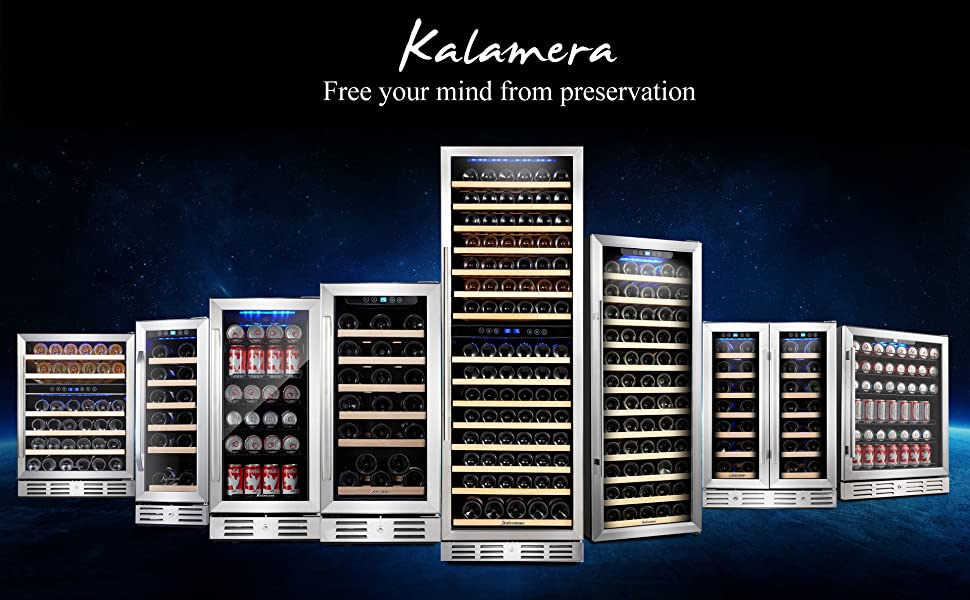 SPECIFICATION
☆ Compressor cooling
☆ Built-in or freestanding installation
☆ Digital LED temperature control
☆ Blue interior LED light
☆ 14 sliding beech wooden shelves
☆ Security lock
☆ Reversible door
☆ Cooling temperature range: 40-66°F,
☆ Input voltage: 110 V/60 Hz
☆Input Power : 90W

☆ Rated Current : 1.5A
☆ Weight : 121 lbs
☆ Light : Blue interior LED light
☆ Dimension(without handle): W30.5" x H33.9" x D22.4"
☆ Dimension(with handle): W30.5" x H33.9" x D24.2"
☆ Suggested built-in dimension: W30.9" x H34.1" x D22.4"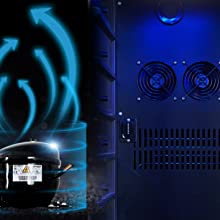 Advanced Cooling Technology
With quality compressor unit and outstanding compressor vibration reduction gear, Kalamera Wine Cooler offers evenly cooled space for your wine bottles with minimized vibration. Your bottles can lay quietly and safe in the cooler. You can also enjoy the quietness with your guest sitting by the cooler.
Smart Digital Control
LCD temperature display enables you to tune the temp to your favorite degree between 40~66°F. The thermal meter brings with itself a function to restore your cooler back to the set temperature from a power lost, which can protect your wine collection from the increasing temp in case you forget the lower the temp.
Alarm beeps and LCD display glows if door is not properly closed, protecting your wine collection from temperature fluctuations!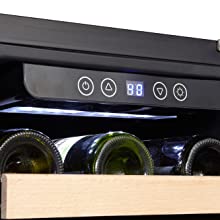 Anti UV Glasses
It is strongly suggested to place the cooler out of direct sun shine. But considering your wine collection, we use double pane glass with anti-UV layer, reflecting the UV on the first glass before reaching the second glass. Your wine collection is safe inside the cooler.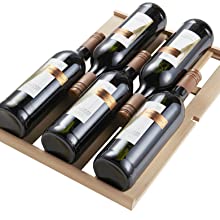 Nice Looking Shelf
One shelf could hold 5 bottles different size of your favorite wines, lay the bottles one row face forward and staggered another row face back could maximum increase the capacity. It would only affected when having larger bottle, like Pinot or Champagne.It's the perfect choice for the wine lover having various wine collection.
100% Customers recommend this product
5 Awesome

100%

4 Great

0%

3 Average

0%

2 Bad

0%

1 Poor

0%
Total Reviews (6)
click here write review to add review for this product.