Kalamera 21 Bottle Dual Zone Thermoelectric Freestanding Wine Cooler Fridge
Kalamera 21 Bottle Dual Zone Thermoelectric Freestanding Wine Cooler Fridge
Brand:

Kalamera

Product Code:

KR-21ASF

Availability:

In Stock
$209.00

$129.00

The special expires in

d ::
★Internal Dimension(in): 10.5″W x 13″L x 28″H
★External Dimension(in): 13.38″W x 20.27″L x 32.28″H
★Bottle Capacity: 21
★# of Door(s): 1
★Door Type: Double Paned Glass
★Door Color: Black
★Reversible Door: No
★Temperature Zones: 2
★Upper zone: 44°F-66°F, 6 Bottles
★Lower zone: 50°F-66°F, 15 Bottles
★Venting Direction: Back
★Shelving Material: Wood
★Removable Shelving: Yes
★Number of Shelves: 7
★Control Type: Buttons
★Lighting: LED
★Adjustable Legs, Freestanding
★Vibration-free: Yes
★Voltage: 100-120V/ 60Hz
★Power: 140W
★Weight: 46.7 lbs


Have you always wanted a cooler just for your favorite wines? Do you want that touch of elegance when you entertain that a wine cooler offers?
It comes with dual temperature zones which allow you to keep your reds and whites at their respective ideal temperatures, warmer for reds and cooler for whites. The upper zone holds 6 bottles and the lower zone holds 15 bottles.It has a double paned glass which trap air between them that acts as an insulator to keep the interior at steady temperature. Seven removable wood shelves help to keep your wines organized while also adding to the elegance of the whole unit.The unit is fitted with adjustable bottom feet to cater for uneven flooring.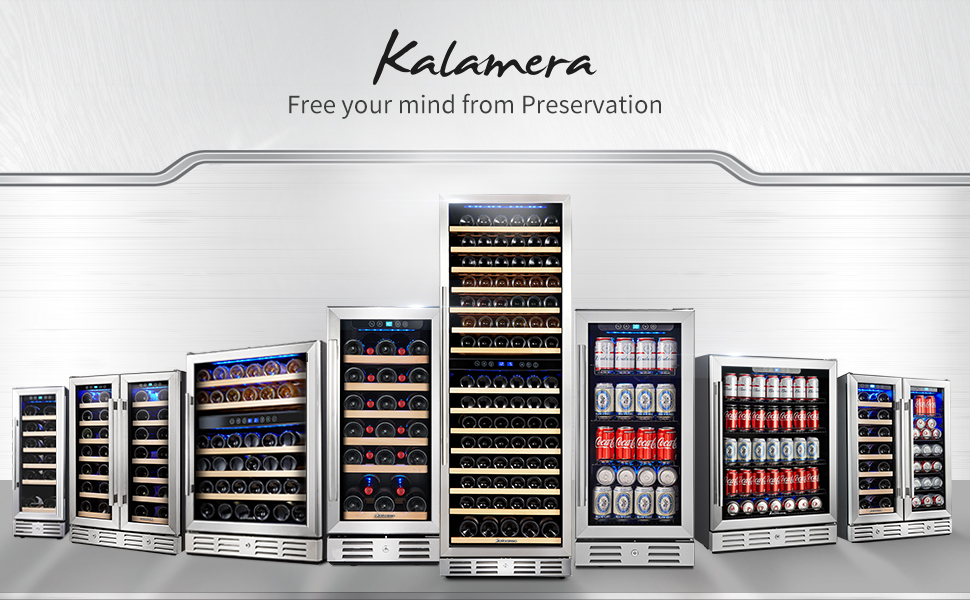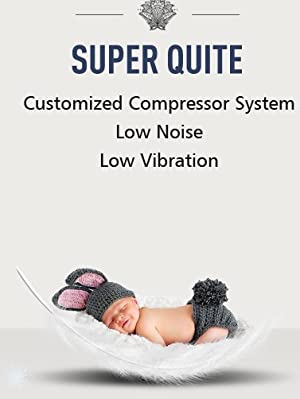 SPECIFICATION
☆ Built-in or freestanding installation
☆ Digital LED temperature control
☆ Blue interior LED light
☆ Security lock
☆ Reversible door
☆ Cooling temperature range: 40-66°F,

☆ Input voltage: 110-120 V/60 Hz
☆ Input power: 140W
☆ Rated current: 1.5A
☆ Weight: 46.7 lbs

☆ Dimension(without handle): W13.38" x H32.28" x D20.27"
☆ Dimension(with handle): W13.38" x H32.28" x D22.27"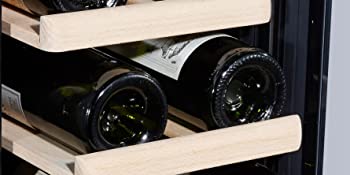 The unit could hold 21 standard 750ml standard Bordeaux bottles
Each shelf could hold 3 bottles,1 and 2 bottle lay on the shelves with their heads interweaving and towards each other.
When customer want to put some other bigger size wine bottles, the capacity would be less, sometime need to remove 1 shelf to meet the size need.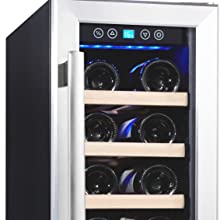 Attractive Design
Frost-Free Stainless Steel Door and Handle with Double Layered Tempered Glass Window and Sliding Beech Wooden Racks So Your Wine is Beautifully Showcased.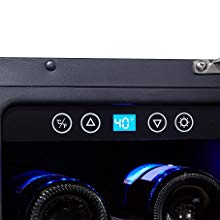 Beautiful Blue LED Light
Beautiful blue LED light with LCD temperature display enables you to tune the temp to your favorite degree between 40~66°F. You could see your wine clearly when the door is closed.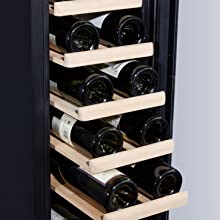 Nice Wooden Shelves
The beech wood shelf is nice looking and strong enough to hold your collection, and soft enough to protect your wine labels without being scratched. On two sides of each shelf placed two stoppers, stopping the shelf when it is pulled half way out, keeping the bottle from falling off the shelf.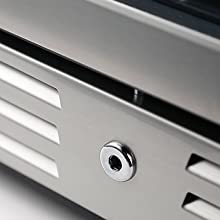 Safety Lock
The built-in universal hexagon bolt lock guarding your cooler, so only you can manage your cooler storage space, preventing kids playing with your cooler or frequent opening with temperature changing and affect your wines.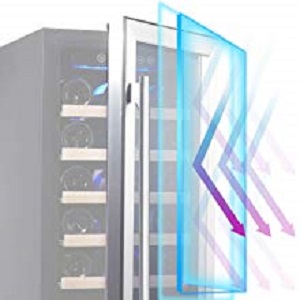 Anti-UV Function
It is strongly suggested to place the cooler out of direct sun shine. But considering your wine collection, we use double pane glass with anti-UV layer, reflecting the UV on the first glass before reaching the second glass. Your wine collection is safe inside the cooler.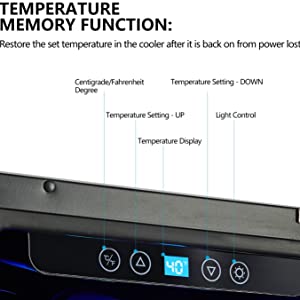 Temperature Memory Function
Restore the set temperature in the cooler after it is back on from power lost, which keeps your wine collection from going bad with increasing temperature.
Advanced Cooling Technology
With quality compressor unit and outstanding compressor vibration reduction gear, Kalamera Wine Cooler offers evenly cooled space for your wine bottles with minimized vibration. Your bottles can lay quietly and safe in the cooler. You can also enjoy the quietness with your guest sitting by the cooler.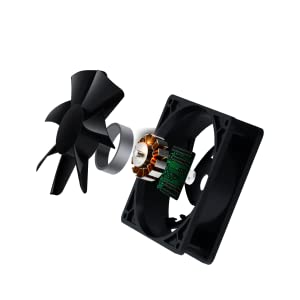 Super Quite
With quality fan and outstanding design reduction noise. Kalamera Wine Cooler providing perfect chilling temperature at all times.
0% Customers recommend this product
5 Awesome

0%

4 Great

0%

3 Average

0%

2 Bad

0%

1 Poor

0%
Total Reviews (0)
click here write review to add review for this product.