Kalamera 24" 117 Bottle Built-in Wine Cooler Fridge Dual Zone Wine Refrigerator
Kalamera 24" 117 Bottle Built-in Wine Cooler Fridge Dual Zone Wine Refrigerator
Brand:

Kalamera

Product Code:

KRC-117DZB

Availability:

Out Of Stock
★ELEGANT DESIGN: Stainless steel triple-layered tempered glass door, soft blue LED lighting, and removable beech wood racks add sophistication to any room!
★LOW VIBRATION/LOW NOISE: Latest in compressor technology provides you with low vibration and noise levels that keep your wine sediment from shifting, so taste quality stays at peak levels!
★EXTRA-LARGE CAPACITY: Holds up to 117 in different size bottles of your favorite wine. Removable shelves allow you to store larger size wine bottles, like bubble wine bottle.
★VERSATILE INSTALLATION: Refrigerator can be built-in or free-standing in kitchen, dining, or entertainment area of your home!
★DUAL ZONE THERMOSTAT: Upper zone ranges from 40-50°F, and lower zone is 50-66°F, so you can perfectly chill all wines.


Have you always wanted a place to store your collection of fine wines? Do you want to keep your wine perfectly chilled to the right temperature, for peak flavor results?
Kalamera wine refrigerator holds up to 117 bottles of your favorite wines. It has the ability to perfectly chill all types of wines with dual-zone thermostat, with an upper zone ranging from 40-50°F, and a lower zone that ranges from 50-66°F. One-Touch control allows you to set the thermostat precisely where you want it, and the advanced compressor system maintains even temperature readings. The compressor is whisper quiet, with reduced vibrations that might disturb sediments, so your wine tastes fresh, crisp and delicious! The dual-layered transparent glass door, and soft blue LED lighting provides ambiance for your room and displays your wine collection beautifully! This wine refrigerator has the added benefit of versatile door installation. You can build it in to your cabinet system in your kitchen or bar area, or use it free-standing in any room of your home.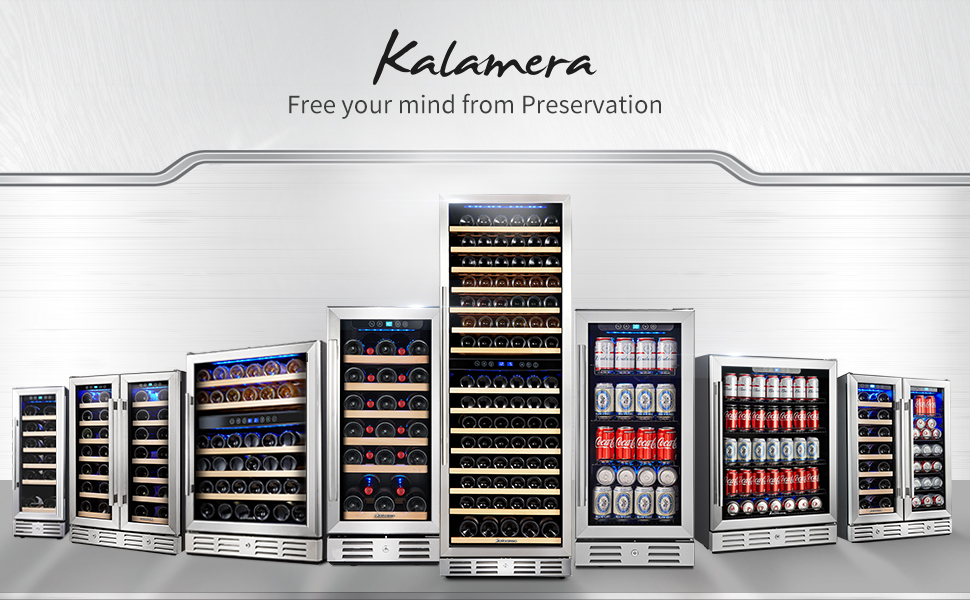 SPECIFICATION
☆ Cooling temperature range: upper zone 40-50°F,
lower zone 50-66°F,
☆ Input voltage: 110 V/60 Hz
☆ Input power: 90W
☆ Rated current: 1.5A
☆ Dimension(without handle): W23.4" x H55" x D26.8"
☆ Dimension(with handle): W23.4" x H55" x D28.6"
Compressor cooling
Built-in or freestanding installation
Digital LED temperature control
Blue interior LED light
Security lock
Reversible door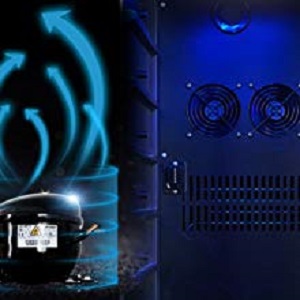 Advanced Cooling Technology
With quality compressor unit and outstanding compressor vibration reduction gear, Kalamera Wine Cooler offers evenly cooled space for your wine bottles with minimized vibration. Your bottles can lay quietly and safe in the cooler. You can also enjoy the quietness with your guest sitting by the cooler.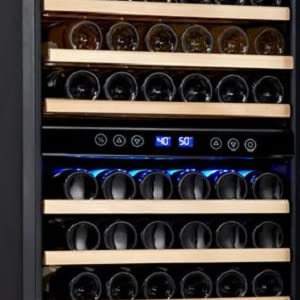 Smart Digital Control
LCD temperature display enables you to tune the temp to your favorite degree between 40~50°F for upper zone, 50~66°F for lower zone(The lower zone must be set at least 5 degree higher than the upper zone), The thermal meter brings with itself a function to restore your cooler back to the set temperature from a power lost, which can protect your wine collection from the increasing temp in case you forget the lower the temp.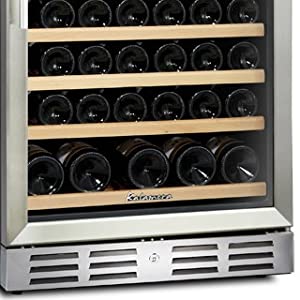 Safety Lock
The built-in universal hexagon bolt lock guarding your cooler, so only you can manage your cooler storage space, preventing kids playing with your cooler or frequent opening with temperature changing and affect your wines.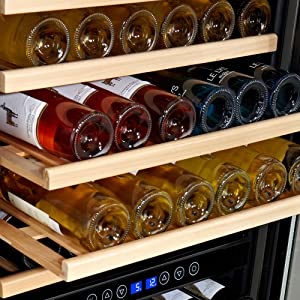 Nice Wooden Shelves
The beech wood shelf is nice looking and strong enough to hold your collection, and soft enough to protect your wine labels without being scratched. On two sides of each shelf placed two stoppers, stopping the shelf when it is pulled half way out, keeping the bottle from falling off the shelf.
67% Customers recommend this product
5 Awesome

66.67%

4 Great

0%

3 Average

0%

2 Bad

33.33%

1 Poor

0%
Total Reviews (6)
click here write review to add review for this product.