Kalamera 6.7 Cu.ft 73 Bottle Touch Control Compressor Wine Cooler Dual Zone
Kalamera 6.7 Cu.ft 73 Bottle Touch Control Compressor Wine Cooler Dual Zone
Brand:

Kalamera

Product Code:

KRC-73DZF

Availability:

In Stock
Only 8 left in stock - order now.
●Built from premium black and silver stainless steel with tempered dual pane glass front to highlight your wine collection in any room of your home.
●Advanced cooling technology keeps compressor quiet without disturbing wine sediments. Input power: 90W
●11 beech wood racks hold up to 73 bottles, so you can stock up on your favorite wine vintages.
●Interior fan and slat-style shelves allow even airflow around all bottles for perfectly chilled wine every time!
●Blue LED Display shows temperature from 40°F-66°F and can be easily adjusted with up/down arrows.

Kalamera 73 Bottle Compressor Wine Cooler Dual Zone with Touch Control If you're a wine connoisseur and need a way to keep your favorite flavors handy and within easy reach, then the Kalamera 73-Bottle thermoelectric wine cooler is just what you need.73 Bottle Dual Zone Wine Cooler can store all your collection of both white and red wines, and free your mind worrying its storage when you met new bottles of fine wine. Wrapped in an understated black cabinet and dual-pane mirror glass door with a black plastic door frame, this wine cooler provides the perfect storage environment for your valued wine collection. Store wine without altering the acidity, tannin, or the refractive index. Low vibration technology compressor ; every bottle you serve will taste exactly as it should. Inside, the eleven 11 beech wood storage shelves help securely hold up to 73 wine bottles in place. And the interior Blue LED lighting helps provide just the right amount of light to let you view your collection without even having to open the door. Utilizing quiet technology compressor, this wine cooler efficiently cools your wine with low vibration. As result, the unit operates more quietly and with much less vibration to minimize potential for sediment agitation or other disturbance to the wine. The adjustable thermostat lets you set the temperature range 40-50F upper compartment & 50-66F lower Compartment; suitable for both red and white wines at the same time, and the internal fan ensures even temperature distribution to eliminate hot spots that can compromise the quality of your wine.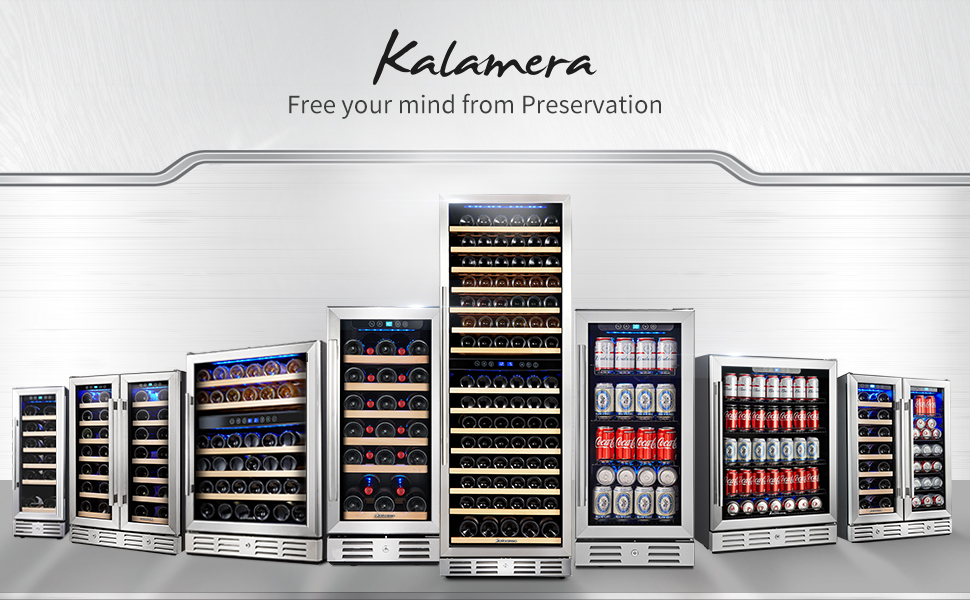 SPECIFICATION
☆ Input voltage: 110 V/60 Hz
☆ Input power: 90W
☆ Rated current: 1.5A
☆ Weight: 112 pounds
☆ Dimension: W19.5" x H50.2 " x D22.8"
Compressor cooling
Built-in or freestanding installation
Digital LED temperature control
Blue interior LED light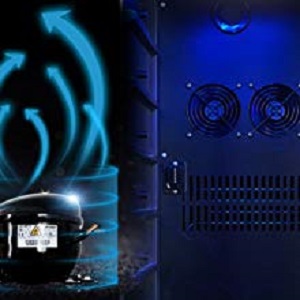 Advanced Cooling Technology
With quality compressor unit and outstanding compressor vibration reduction gear, Kalamera Wine Cooler offers evenly cooled space for your wine bottles with minimized vibration. Your bottles can lay quietly and safe in the cooler. You can also enjoy the quietness with your guest sitting by the cooler.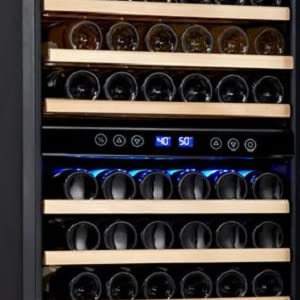 Smart Digital Control
LCD temperature display enables you to tune the temp to your favorite degree between 40~50°F for upper zone, 50~66°F for lower zone(The lower zone must be set at least 5 degree higher than the upper zone), The thermal meter brings with itself a function to restore your cooler back to the set temperature from a power lost, which can protect your wine collection from the increasing temp in case you forget the lower the temp.
Whisper Like Performances!
Boasting a high-tech compressor and air duct system you may rest assured that this wine cooler unit is quiet as a stone. It ensures that the cold air is transferred to every corner of the cooler without making any noise. Enjoy your favorite drinks unobstructed from now on. Forget that a wine cooler machine is working right here next to you.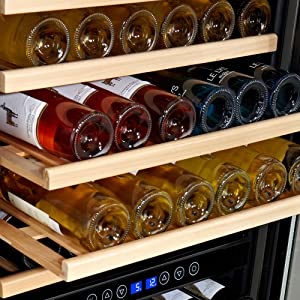 Nice Wooden Shelves
The beech wood shelf is nice looking and strong enough to hold your collection, and soft enough to protect your wine labels without being scratched. On two sides of each shelf placed two stoppers, stopping the shelf when it is pulled half way out, keeping the bottle from falling off the shelf.
100% Customers recommend this product
5 Awesome

57.14%

4 Great

42.86%

3 Average

0%

2 Bad

0%

1 Poor

0%
Total Reviews (7)
click here write review to add review for this product.
Tags:
wine cooler
,
wine fridge
,
wine cellar
,
wine refrigerator
,
wine chiller
,
wine cooler fridge
,
wine fridge cabinet
,
under counter wine fridge
,
best wine coolers
,
built in wine cooler dual zone wine cooler
,
wine cooler cabinet
,
under counter wine cooler
,
built in wine fridge
,
freestanding wine cooler
,
wine coolers for sale
,
best wine refrigerator
,
built in wine refrigerator
,
under counter wine refrigerator